Call of Duty Mobile is one of the most sought-after games on the mobile platform. Over the course of a year, the realistic graphics and fast-paced gameplay have attracted many players. Call of Duty Mobile is celebrating its first anniversary and has a lot of new stuff for players to get.
A lot of people have downloaded the game. Call of Duty Mobile has done a good job of keeping players engaged and this shows that the game is likable. The game provides players with a competitive environment due to the wide variety of modes and weapons. Many players have started streaming online to showcase their skills.
How to record Call of Duty Mobile gameplay
If you want to quickly and easily capture Call of Duty Mobile, then you should download and install a screen recorder like AZ Screen Recorder in advance.
There are a number of functions that include capturing face cam, adding stickers and subtitles, customizing text and logo, and so on.
AZ Screen Recorder is able to help you record all your activities on your mobile device. It is possible to change the resolution, bit rate, and frame rate according to your requirements. There is no timer in this recorder, which is one of the worst things about it.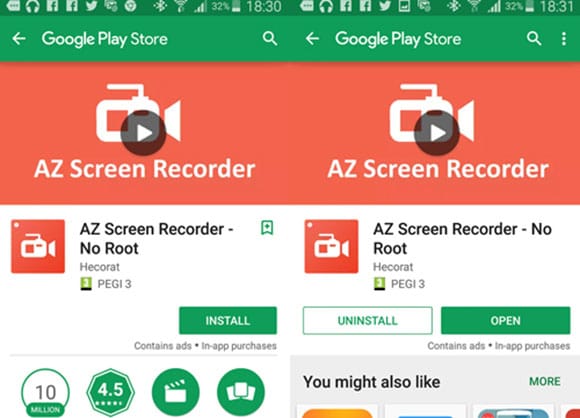 Step 1: Download and install this screen recorder on your mobile from its official website. To edit resolution and quality, you can press the gear icon.
Step 2: Open and play Call of Duty. Press the red record button in the AZ overlay when you want to start the recording process.
Step 3: To finish the game play recording, just push down from the top of the screen and tap the stop recording button.
FAQs
Q1. How to log out of Call of Duty Mobile?
A: Make sure that you are at the lobby screen. In the top right of the screen, find and press the three-bar option. Then, go to Settings and select Legal and Privacy. In the right corner of this page, you can hit on the Log Out button to sign out of your account.
Q2. How to turn on the microphone on COD Mobile?
A: To turn on the microphone on cod, enter a room and find a microphone and speaker icons in the upper right after you see your character. Once you have turned on the microphone, your friend can hear your voice.
Q3. What is the best Call of Duty gameplay?
A: According to the information from all Internet users and game websites, Modern Warfare, Warzone, Black Ops, and Vanguard are the best Call of Duty gameplays.
Q4. Is Call of Duty World War 2 free?
A: Yes, World War 2 is absolutely free for you to download and play.
Q5. How can I play Call of Duty without downloading?
A: Getting the APK and OBB files through programs like Xender and Shareit is the only way for you to play Call of Duty gameplay without downloading.