Here is BGMI Sensitivity Settings: Best Camera, ADS, and Gyroscope Settings for Battlegrounds Mobile India 2022
In this article, we are going to show you the best sensitivity settings for Battlegrounds Mobile India that will definitely help you to enhance your gaming style.
New versions of games bring new features and improvements. And this applies to gaming not just in terms of graphics but also gameplay. In Battlegrounds Mobile India, PUBG's official remake, players can expect all of the original features from PUBG, along with some extra additions. But there are a lot of similarities between the two versions as well.
For example, understanding how to configure your controls is essential if you want to improve your skill and performance. If you've never played a game that uses a virtual joystick, then here's what you need to know: sensitivity settings affect movement acceleration and recoil control accuracy meaning it helps you move faster but hinders aiming capabilities, while lower sensitivity means smoother movement but makes adjusting aim more difficult! In this article, we'll show you how to correctly set up your joystick so as to attain greater mastery over your character.
What are Sensitivity Settings in BGMI ( PUBG Mobile)?
In Battlegrounds Mobile India, you have the option of choosing from different sensitivity settings. There are three major sensitivity settings including camera, ADS or aim down sight, and gyroscope. Each set helps you in movement, aiming for the enemy, and controls overall. Although the game offers some pre-loaded settings that generally come as Low, Medium, and High.
It is always a good idea to realize that a customized setting will best suit your preferences as it may be better suited to what controls you need most often rather than a standard-setting (the one that Battlegrounds Mobile India suggests by default). You will play the game more competitively by choosing this option because it gives you additional control of moving around faster by adjusting your button config.
Best Camera Sensitivity Settings for BGMI (aka PUBG Mobile)
The camera sensitivity feature of BGMI helps you to move your part-playing character around as you play the game. The feature is essential as it can also help your character move quickly as opposed to turning the entire body, and this gives you more control over their movements as well as allows you to turn back on time if needed.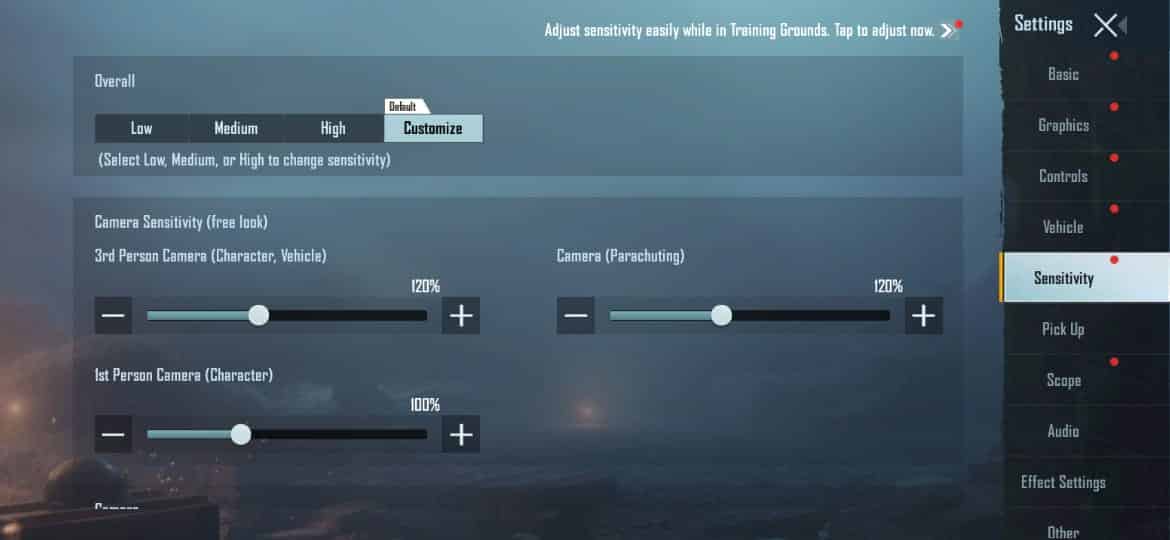 Camera: 120-150%
TPP:110-120%
FPP:100-105%
Moreover, there are a number of settings for the camera depending on the different scopes you have with you. A principle worth following is that a smaller scope needs less sensitivity as it shouldn't require a lot of movement, whereas a larger scope deserves higher sensitivity as there will also be more small movements. Let's see what values should be used for each one: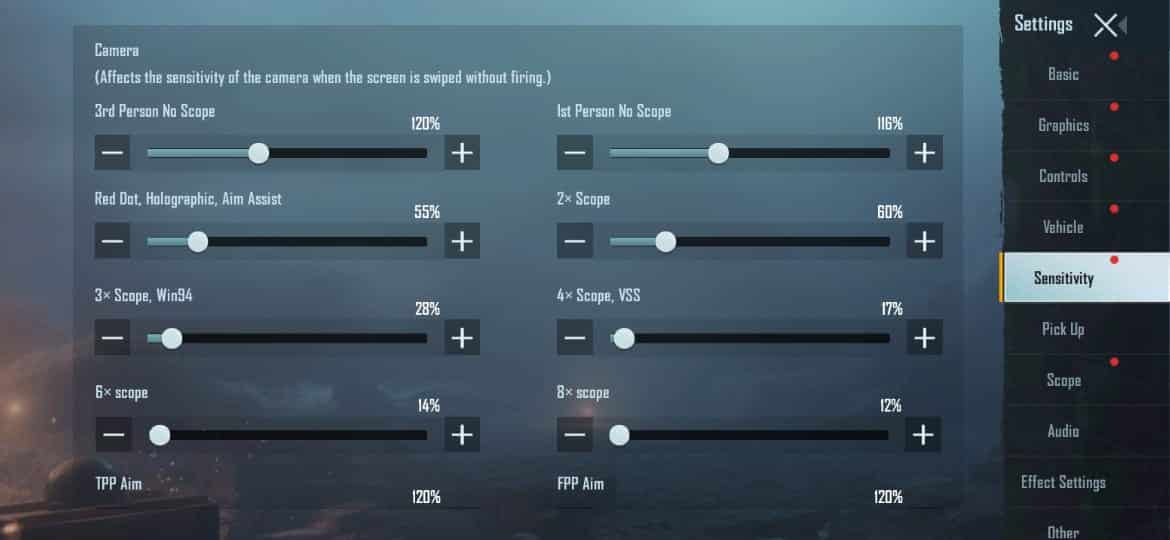 TPP with no scope: 115-130%
FPP with no scope: 115-130%
Red Dot, Holographic: 55-70%
2x Scope: 60-80%
3x Scope: 15-30%
4x Scope: 10-25%
6x Scope: 15-20%
8x Scope: 5-10%
Also Read: Iphone 12 PUBG Mobile Sensitivity Settings gyro no recoil
Best ADS Sensitivity Settings for BGMI (aka PUBG Mobile)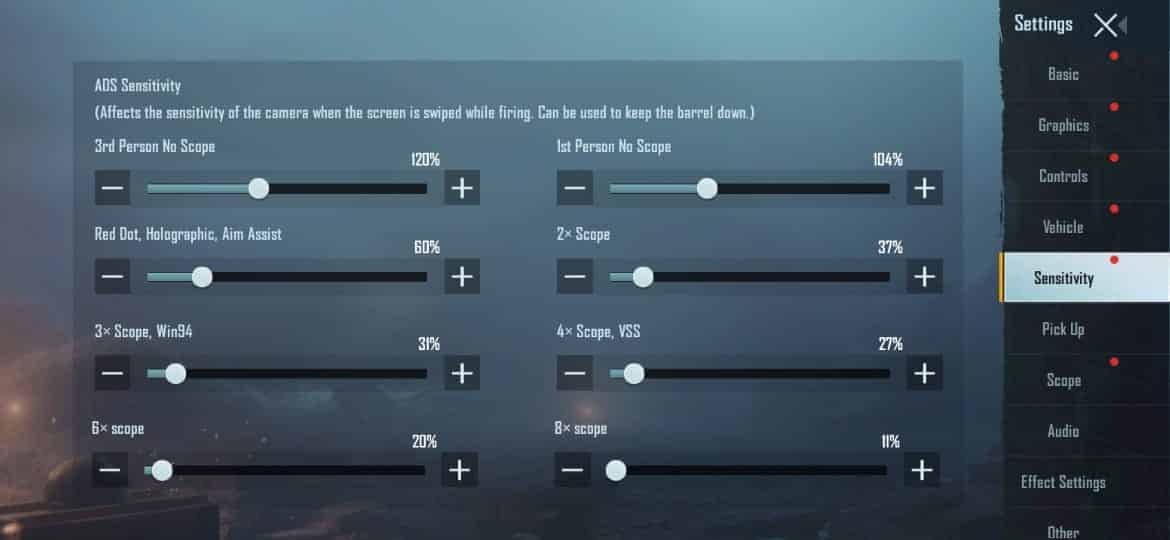 Aim Down Sight (ADS) sensitivity settings are pretty important in the Battlegrounds Mobile India (BGMI). The setting will help you get better control over your weapons and if the ADS setting is just right, especially with high-caliber rifles like sniper rifles, you can even get precision accuracy. This means chances of knocking down an enemy will be higher if you have mastered this aspect of your game. Here are some helpful ways to get started:
TPP No scope: 95-120%
FPP No scope: 100-120%
Red Dot, Holographic, Aim Assist: 55-60%
2x Scope: 37-45%
3x Scope: 30-35%
4x Scope: 25-30%
6x Scope: 20-23%
8x Scope: 10-13%
Also Read: Iphone 13 PUBG Mobile Sensitivity Settings [Gyro No Recoil]
Best Gyroscope Sensitivity Settings for BGMI (aka PUBG Mobile)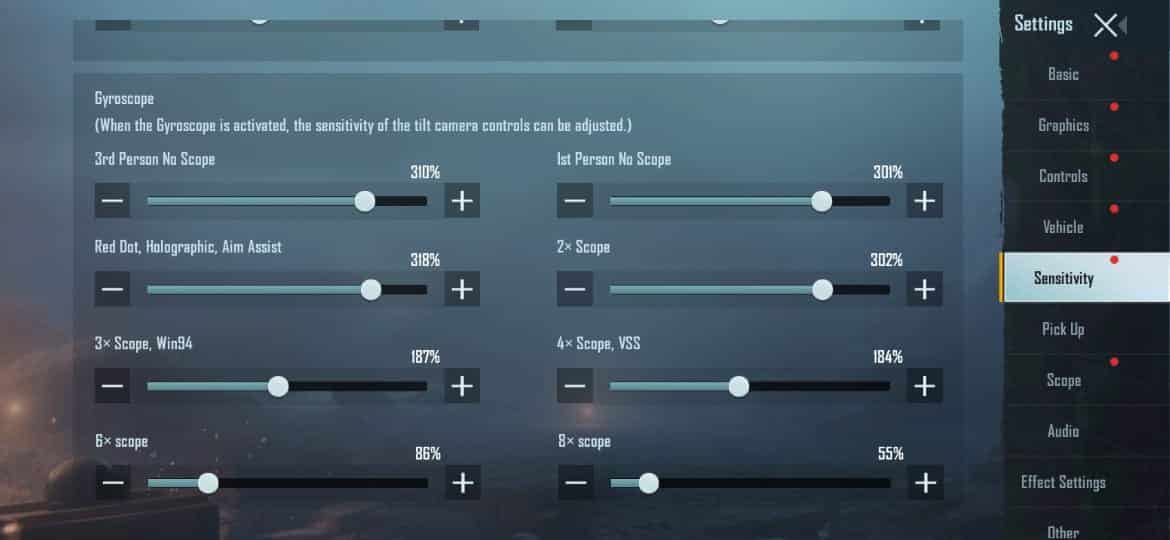 Sensitivity settings in Mobile Battlegrounds (MBG) do really matter if you want to perform well at the game. If you play using a gyroscope, or would like to experiment with one, it's important to get used to it before facing other players at the game. Look for some gyroscope settings and test out different options when running through these trainers:
3rd Person (TPP) No Scope: 300-350%
1st Person (FPP) No Scope: 300-350%
Red Dot, Holographic: 300-350%
2x Scope: 300%
3x Scope: 180-240%
4x Scope: 180-210%
6x Scope: 80-100%
8x Scope: 50-70%
All of the above settings are a baseline for Battlegrounds Mobile India (BGMI) aka PUBG Mobile. Players can customize each setting according to their style of play. If you want faster movements, you can increase the values on your settings. The best way to test all of your settings is to go on the practice ground in-game and practice your aim, speed, mobility, and recoil control using these customized controls for PUBG mobile. Hope you get that chicken dinner with these settings.
How to Share Sensitivity Settings using BGMI Sensitivity Code?
The Battleground Mobile India (BGMI) Code for Sensitivity is an easy-to-use tool that can be entered into the game and will adjust the player's sensitivity settings without any issues! Players can share their customization code and enter it into their own customization code and transfer it over to the other player's profile to download and install with ease.
How to Share BGMI Sensitivity Code?
You can share your BGMI sensitivity settings with other players. In order to that, you need to follow these steps:
Open the Battlegrounds Mobile India (BGMI) game on your Android or iOS smartphone.
Go to the lobby and click on the Arrow icon, which is present at the bottom-right corner of the screen. Click on the Settings menu.
Go to the Sensitivity tab and there you will see an option of Upload to Cloud. Tap on it and then click on the 'Share' option to generate a share code.
Simply copy the code and share it with your friends.
How to use BGMI Sensitivity Code?
If you are planning to use the BGMI sensitivity code that has been sent by your friend, you need to do the following.
Go to BGMI game and go to the Settings menu.
Click on Select Sensitivity and then go to Layout Management.
Tap on Search Method and simply paste the code that you got from your friend.
Once done, you can click on Preview to check out the sensitivity settings. Tap on 'Use Layout' and the new BGMI sensitivity will be automatically applied to your account.