A Performance Guide for Among Us Potential FPS Boost
If you are a fan of Among Us Mobile game and you facing performance issues, lag issues, or low FPS, you are not alone. Many gamers have reported the same issue. Let's see what can be done to make our gaming experience better. The main optimization th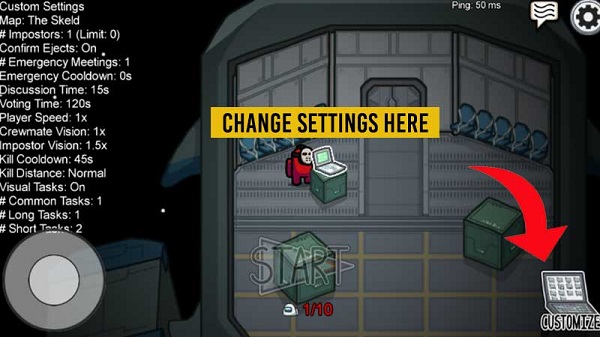 at is not in Among Us Mobile.
CPU Settings
There are a few recommended settings you could try:
Close other programs (especially CPU and RAM heavy programs like web browsers).
Give Among Us High priority via task manager.
1) Run Among Us.
2) Open Task Manager [CTRL+SHIFT+ESC].
3) Switch it to the More details view if required using the "More Details" link in the bottom right corner.
4) Switch to the "Details" tab.
5) Right-click "Among Us.exe" on the list -> "Set priority" -> "High".
How To Fix Among Us Lag Spikes
if you want to smooth gameplay among us on pc without lag issue then you need to install Gameloop 7.1 latest version of emulator 2020. Game loop is the most papular and lite weight emulator for playing mobile games on pc.
Play Among Us on
Steam 
The players can download the game from Steam. Here are the steps using which they can do so:
Step 1: First, you would have to open Steam on your PC and search for 'Among Us.'
Step 2: After making a successful purchase, the game will be added to your Steam library.
Step 3: Now, click on Among Us present in your library and press the 'Install' button. The download for the game will soon begin.
After the download and installation processes are complete, players can open the game and enjoy playing.
Here's the download link for the game:
Steam: Click here
Size: 250 MB available space (Source: Steam)
Minimum Requirements for Among Us
Here are the minimum requirements of the game:
OS: Windows 7 SP1+
Processor: SSE2 instruction set support
Memory: 1 GB RAM
DirectX: Version 10
(Source: Steam)
Also, the players can play Among Us on their PCs using emulators. Here are the steps by which users can play the game on the BlueStacks emulator:
Step 1:

 

Open Google Play Store on the emulator and search for 'Among Us.'
Step 2:

 

Press on the most relevant option and click the 'Install' button.
How to fix connection issues in Among Us
1. Switch to a stable source
In most cases, an unstable source of connection is a typical issue. To resolve this, simply try switching to another connection. For instance, you could play on device-data and switch to a Wi-Fi network or vice versa.
2. Strong Wi-Fi connection
When playing over Wi-Fi make sure that the Wi-Fi network is strong; at least three bars or displaying as a green icon.
Related Articles
3. Closing all background tasks and apps
Close all background apps before playing. Sometimes, a restart may do the trick, as well. Ensure that there are no active downloads ongoing either while you play.
4. Conduct frequent Speed Tests
Check your network strength via speed test websites. If the ping shows high, contact your service provider. There might be some technical issues that crept up with you being oblivious of them. Your service provider should be able to rectify them, sooner or later.
How to Fix High Ping in Among Us
Here are some basic troubleshooting steps to fix high ping in Among Us
. Follow the steps and they may help you to lower down the ping.
1. Restarting the device
Yes, this may sound really ineffective and vague, but sometimes this is all it takes to improve ping.
2. Switching between available Networks
If restarting doesn't seem to work, then switch between device data and available Wi-Fi networks:
Open your Settings app. Tap on "Wireless & networks" or "Connections". Subject to your device, these options may be different.
Turn Wi-Fi off and mobile data on, and check to see if there's a significant difference.
If not, turn mobile data off and Wi-Fi on and see if that works.
3. Fixing mobile data problems
First and foremost, ensure that the data connection is turned on. Secondly, check whether you have an adequate amount of data in your account or not.
Switch mobile data off and on to see if this helps improving ping. Establishing a fresh new connection, sometimes does help in restoring low ping.
4. Fixing Wi-Fi and Router issues
Make sure that you're actually connected to the Wi-Fi network and it stays on.
Sometimes, moving closer to the router tends to boost your network strength leading to a stronger Wi-Fi connection.
You can also reset your router in case it's connected to Wi-Fi at home.
Unplug and plug the router back again into the electrical outlet. Make sure the lights turn off and on, correspondingly. This often helps in fixing ping.
If you still face connection issues after implementing all of these steps then contact Among Us customer service.
Hope this article helps all those stuck and fed up with connection errors! check out cyberpunk 2077 lag fix guide.