Black Mobile Dessert is a world-class MMORPG Game which fully utilizes the Black Desert Global IP loved in more than 150 countries! Enjoy the stunning graphics, incredible action, skill-based combat, and amazing character customization system from the PC version all on your mobile device.
Black Desert Mobile has the best character customization system of any mobile game that is currently on the market. This feature allows everyone to break out of the norm and make unique characters that truly represent each and every player. Everything is customizable from the height, size, hairstyle, the face of the character down to the eye color, eyebrow length, amount of shine on the skin, hair color and so much more can be adjusted any way you like.
Black Desert Mobile tells the story of a conflict between two opposing nations, the Republic of Calpheon and the Kingdom of Valencia. Previously, the four main areas, Calpheon, Serendia, Balenos, and Mediah were peaceful. Things changed when merchants from Valencia brought the black plague, millions of people died. People realize that Valencia has caused everything. Calpheon formed a coalition and began its 30-year war.
The Black Stones are such a great source of power, they are said to have corrupted the minds of the Ancients and caused many great civilizations to collapse. black desert mobile release now worldwide and it's an online game.
Black Stones are frequently found in Valencia's harsh, hostile deserts. This region is referred to by Calpheonians as the Black Desert, while Valencians know it as the Red Desert, as they recall the rivers of blood that were spilled there. The two lays claim to the resources of the desert. Both are willing to fight for it.
The Black Spirit is your guide through these war-ravaged lands, an enigmatic being whose fate is bound up with yours. Together, through the past of Calpheon and Valencia, you must discover the hidden secrets of the Ancients.
[table id=4 /]
Black Desert Online Classes
WARRIOR Blood and sweat, as far as the eye can see… No place like home! A warrior is a well-rounded melee class, an expert in utilizing his abilities and attacks with a longsword and shield. Rough and battle-hardened, his powerful attacks and physical prowess are a sight to behold, such as charging right into the midst of enemies with skills like a takedown. And while his shield grants a high level of defense, it is a deadly weapon in its own right; he can use it to immobilize his foes and reposition to his favor.
RANGER One shot, one kill!
Rangers are an exceptionally agile class, allowing them to deftly maneuver around their foes. With a bow by their side, Rangers swiftly and gracefully take down their enemies. Yet even if they get close, the Ranger can use her powerful kicks to beat back incoming threats.
GIANT, I will demolish all that stand before me!
The Giant wields 2 mighty axes that leave nothing but death in his wake. His melee skills are the best fit for a group of enemies, as he leaves, slices and smashes all who would oppose him.
WITCH, You cannot hide from my magic!
Burn, freeze and shatter enemies with the power of the natural elements. Having bound the forces of fire, ice, wind, lightning, and earth to her will, the witch is a master of Elemental Magic. With enough time to prepare, the sheer damage they are capable of is unmatched by any other.
VALKYRIE This sacred power will lead us to victory!
The Valkyrie, blessed with sacred powers and a shield ever at the ready, stands as a paragon on the battlefield. Similar to the warrior, her defensive capabilities keep her allies out of harm's way, though her holy power also provides other buffs and recovery spells. This is not to say she is merely a supportive presence on the battlefield, as her sacred skills can also deal with immense damage.
CUSTOMIZATION
Black Desert Mobile features a robust character customization system that allows every player to make unique characters of their own! Everything is customizable: from general changes such as height, build, and hairstyles, down to specific details such as eye color, eyebrow length, facial contours, layered hair color, and so much more!
"Finally, An Actual Open-World For Mobile" –TheGamer-
"The best mobile MMO gameplay" –MMORPG.com-
"A true MMO experience" –GamePress-
"Prettiest fantasy MMOs on mobile" -VentureBeat-
Black Desert Mobile
The critically-acclaimed MMO with players from over 150 countries around the world!
Experience the amazing adventure in Black Desert on Mobile.
■ Breathtaking Action
Play as 5 unique classes with dynamic skills.
Indulge in unparalleled, fast-paced action and combat found only on Black Desert Mobile!
■ The Best Graphics on Mobile
The immersive world with sophisticated, high-fidelity graphics!
Take the original quality experience anywhere you go on mobile.
■ Express Yourself with Extreme Character Customization
Simple tools allow for a high degree of freedom in character customization!
Become your true self with customization options that push the boundaries of gaming.
■ An Endless Amount of Content to Create the World
Vast life content, including fishing and taming, along with your own Camp to manage and expand.
Trustworthy pets and horses to keep you company on your adventures.
Minimum RAM Requirements
2GB
■ App Access
We require permission to provide the following services while you use the app.
Required Permission
Photos/Media/Files: Used to store files or data relevant to the gameplay while the game is running and when recording/taking screenshots.
Optional Permission
Microphone: Used for in-game voice chat and when recording gameplay videos.
[How to Change Permissions]
▶ Android 6.0 or higher: Settings > Apps > Select Permission Settings > Permissions > Set to allow or deny
▶ Below Android 6.0: Upgrade the operating system to change settings, or delete the app
※ The app may not provide other options to change permissions itself but can always be done with the above method.
※ If the operating system is a version lower than Android 6.0, then you cannot change permission settings for individual apps. We recommend upgrading to 6.0 or higher.
※ If you deny permission for required access, it could disrupt resources or make you unable to login to the game.
How To Play Black Desert Mobile on PC
With all your passion for playing Black Desert Mobile, your hands are not supposed to be limited on a tiny screen of your phone. Play like a pro and get full control of your game with keyboard and mouse. Gameloop offers you all the things that you are expecting.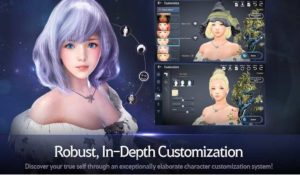 Download and play Black Desert Mobile on PC. Play as long as you want, no more limitations of battery, mobile data, and disturbing calls. The brand new Gameloop Emulator 7 is the best choice of playing Black Desert Mobile on PC. Prepared with our expertise, the exquisite preset keymapping system makes Black Desert Mobile a real PC game.
Coded with our absorption, the multi-instance manager makes playing 2 or more accounts on the same device possible. And the most important, our exclusive emulation engine can release the full potential of your PC, make everything smooth. We care not only how you play, but also the whole process of enjoying the happiness of gaming.
Installing Black Desert Mobile on PC
1. Download Gameloop Emulator
2. Install and Open Emulator
3. Click on Game Center and Search For Black Desert
4. Now Click on Download and install it.
How to Download Black Desert Mobile on PC Using Memu Emulator
1. Download Memu
2. Install Memu
3. Find App in GooglePlay
Why Use MEmu for Black Desert Mobile
MEmu App Player is the best free Android emulator and 50 million people already enjoy its superb Android gaming experience. The MEmu virtualization technology empowers you to play thousands of Android games smoothly on your PC, even the most graphic-intensive ones.
What does MMORPG mean?
an online role-playing video game in which a very large number of people participate simultaneously.
What is the best free to play MMORPG?
The best free MMOs are:
Fractured Space.
Dreadnought.
Winning Putt.
League of Legends.
Path of Exile.
Lord of the Rings Online.
Star Wars: The Old Republic.
World of Warcraft.
What is the best MMORPG 2019?
Neverwinter
Star Trek Online
Rift
Blade & Soul
Guild Wars 2
ArcheAge
MapleStory 2
Final Fantasy XIV
Skyforge
TERA
Elder Scrolls Online
Runescape
Lord of the Rings Online
Star Wars: The Old Republic
Secret World Legends
Eve Online
World of Warcraft
World of Warcraft Classic
How to Play Black Desert Mobile on PC Using BlueStacks
1. Install BlueStacks and run the installer
2. Complete one-time setup
3. Go to the search bar at the top-right corner and search for Black Desert Mobile
4. Click the icon then click install on the Google Play screen.
5. Once installation completes, click the Black Desert Mobile icon in the My Apps tab
6. You're all done! Enjoy playing Black Desert Mobile on your PC.